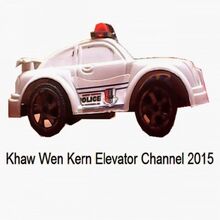 Wen Kern Boys Elevator Channel (formerly Khaw Wen Kern Elevator Channel) is an elevator filmer based in Bukit Mertajam, Penang, Malaysia (after klvncw).
History
He began filming elevators since 30 November 2012. He filmed Otis Traction Elevator at Billion Shopping Centre, Bukit Mertajam, Penang, Malaysia.
The first HD video was taken by him at Aeon Mall, Bukit Mertajam, Penang, Malaysia on 4 October 2014 which has a Hitachi MRL Traction Elevator.
He filmed more elevators in Genting Highlands, Pahang than other elevator filmer in Malaysia.
Camera
Lenovo S650 (October 2014-present)
Unknown feature phone (various, 2012-2014)
Trivia
He rarely film elevators and is less active in elevator community compared to a few other elevator filmers in Malaysia.
He mostly film elevators during holidays, mainly in Genting Highlands.
On his elevator channel, he also upload his offtopic videos (like his new watch, new phone and new toy car).
External Links
Ad blocker interference detected!
Wikia is a free-to-use site that makes money from advertising. We have a modified experience for viewers using ad blockers

Wikia is not accessible if you've made further modifications. Remove the custom ad blocker rule(s) and the page will load as expected.